Magellan Explorist GC Review – What You Must Know Before Buying

GPS technology has evolved greatly in recent years, and the sport of geocaching is becoming a very popular activity among GPS enthusiasts. The Magellan Explorist GC GPS device is designed to aid you during your geocaching adventures by giving you a 2.2 inch LCD display screen, the ability to easily connect to the geocaching.com website, and many other features that make this GPS a great tool during any type of geocaching adventure.
What is Geocaching?
Before you can learn about the GPS, you first must understand what geocaching is and why it's so important. Geocaching is an activity that takes place on a large scale with hundreds or sometimes even thousands of people. The activity is not considered a sport, so there is no official sanctioning body. Geocaching.com is the official website of geocaching and from this website is where all of the activity takes place.
Geocaching is similar to the historical game of letterboxing. In geocaching, players compete with each other to find containers that either contain clues to the next container, or small prizes that are insignificant in value. The containers also usually contain a logbook, where people can write in their name and date of discovery. People compete using coordinates obtained from the official website. These coordinates are entered into their GPS system and they can then use their GPS and other skills to locate the items. The fun of geocaching lies in the player's ability to use their knowledge of navigating and the power of their GPS to find the locations with only a set of coordinates to go by.
The Benefits of the Magellan Explorist GC
The Explorist GC has many unique features that make it a great tool for geocaching and other related activities.
Seamless connection to geocaching.com – One of the greatest features of this unit is its ability to easily connect to the geocaching.com community. Geocaching.com is the "headquarters" for all geocaching activities around the country. You can use the Explorist GC to find and sync the latest coordinates and locations directly to your GPS, in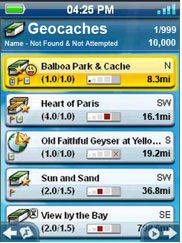 stead of having to manually find them and import them.
Preloaded popular geocaches – The unit comes preloaded with the country's most popular geocache locations already programmed into the GPS. These are the geocaches that have been found more often than any others, meaning they are great for beginners because they are easy to find.
Paperless geocaching – Instead of having to write down all of your tips, hints and description of the geocache on paper, everything can easily be recorded and viewed from the GPS unit. This makes it much easier to tackle multiple caches at the same time without having to waste paper and other resources for your recording work.
LCD display – The Explorist GC incorporates a 2.2 inch LCD screen that is transflective, meaning it can be easily viewed even in direct sunlight. The graphics and menus are easy to see in the sun and the menus are extremely simple to use, with no added menus for confusion or frustration.
"I really enjoy the whole paperless feature. I have found a dozen or so caches in different terrain." — Erin Palmer, Amazon.com
Insane amount of memory – The amazing thing about the Magellan Explorist GC is that you can store over 10,000 distinct geocaches on the device meaning you can store all of your favorites as well as any other geocache opportunities within your area.
The Magellan was also built to be used in the outdoors, as evidenced by its waterproof design and rugged design that can withstand being dropped, crushed or submerged in water. This allows you to take the unit with you everywhere you go without fear of it becoming damaged or broken.
What Else Should You Know About This Device
With any electronic device, there will always be something that doesn't please everyone.  It could be a quirk with the device or a technical limitation.  Here are the drawbacks about this device:
Besides the basic geocaching GPS capabilities included, there are no-frills to this geocaching GPS device.  For more experienced or avid geocachers looking for fancier features, this device falls short in that area.  Based on the excellent price point, however, it is sufficient for many beginners and most geocaching hobbyists.  It also does not offer any possibility to add external memory.  This is not an issue for the most part because the memory provided is sufficient for most cases and only the most active of geocachers will want the higher end models that offer memory expansion.
In terms of the screen viewing, some with poorer eyesight such as the elderly or shortsighted mentioned that the backlight is rather dimly and text somewhat small causing the reading to be more difficult.
There is a 30-day trial to Magellan's premium geocaching membership that once expires, requires an annual fee of $30 (or $10 for a 3-month membership).  The premium features, however, are worth it for avid geocachers and enhance the overall experience as you'll find out.
Value
Obviously you will only value from this GPS if you are into geocaching, as it really has no other useful features besides those used in the popular activity. If you are an avid geocache participant and would like a unit that will really give you an advantage over your competition, the Explorist GC is the GPS for you. The simple fact alone that you can automatically connect with geocaching.com on your device gives you a big advantage because you can browse the latest geocaches, discover hidden locations, find about hints or tips and download up to 10,000 caches right onto your device.
Additionally the unit features incredible battery life, with a "suspend" feature that shuts off the entire unit with the exception of the GPS tracking features. This allows the battery to stay charged for days at a time for those truly wild geocaches that take you into the middle of nowhere. There is a picture viewer built in which allows you to look at pictures from geocache.com or pictures that you have taken and saved onto your GPS. The unit automatically keeps statistics relating to your journey including total time walked, average speed, and other useful stats. The GPS can connect to any Windows PC for syncing of maps, pictures and other information.
What Do Actual Users Have To Say About the Explorist
"Good product, fast shipping. No complaints. It works well and does as described. Jumping is not an issue, use it often and find a lot of caches." — Joseph Northrup, Amazon.com
"I bought this one to replace one just like it that my grandson broke. It does a great job for the price." — Brad, Amazon.com
"Took a stub in the dark with this Magellan, worked out very well, very accurate and had alot of fun." — Joseph Mikco, Amazon.com
Where To Buy the Magellan Explorist GC
We've found that the best place to buy the Explorist GC is online. Even so, prices can range wildly.  You also want to be sure you purchase the genuine product.  The best place to buy is from a trusted retailer. Check it out below: